Dead Beat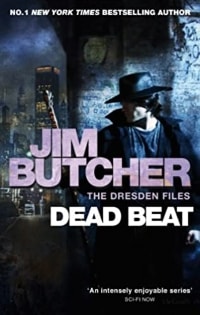 Synopsis

There's an entire world that exists alongside the everyday life of mankind.Vampires. Werewolves. Faeries. Demons. Monsters. They are all real.

Harry Dresden is the only professional wizard in the Chicago area phone book, and paranormal investigations are his stock-in-trade. Luckily, he's not alone. Although most people don't belive in magic, the Chicago PD has a Special Investigations department, headed by Dresden's good friend, Karrin Murpy. They deal with the stranger cases.

It is because of Karrin that Harry sneaks into Graceland Cemetery one night to meet a deadly vampire named Mavra. It seems Mavra has some incriminating evidence that would destroy Karrin's career. The vampire's demand is simple: find her the Word of Kemmeler and all the power that comes with it. But first, Harry would kind of like to know just what the Word of Kemmeler is. Before long, he is in a race against time - and six necromancers - to get the Word. And to prevent the good people of Chicago from experiencing a Halloween night will truly wake the dead...