Wreaths
I like to decorate according to the seasons, though the need to decorate it as only been around for a year, perhaps two. Before, I was content to just decorate for Halloween and Yule, but why not honour the rest of the seasons too?
I think that the need to decorate for Halloween and Yule is more due to the fact that it is dark and gloomy and you have to spend most of the time in your home when you aren't going out for the various tasks that you need to do. I think the main reason for this was because we lost one of our dogs in August 2018 and I wanted to do something to make me forget, or at least, give me something else to focus my mind on. I had a lot of nervous energy to get rid of too, so I set about painting the bathroom and toilet. (These are in seperate rooms - where I live, some of the houses have them seperate rather than together, which probably makes sense, actually!) I'd also wanted to do the hallway, too but I didn't have enough time to get that ready before we adopted a new dog. Sadly, he wasn't with us very long because last sprig he developed an illness which meant that he was gone too before the end of the summer.
So, last autumn I spent a great deal of my time painting the hallway to forget his loss too, and only just finished it this past week. (March, 26th, 2020. This project had nothing to do with not being able to go out because of a certain virus - it was just something I needed to finish off.) The colours I chose were probably a bit darker than I intended, but it is a vast improvement over the horrible yellewed emulsion and gloss that was there before. (I don't think it had been properly decorated until I had a go at it.) It was while painting the hallway that I realised that my arthritis was a lot worse than I thought - until then a lot of the pains I had I thought were due to being too inactive. Because of this, I don't think I'll be redoing it in a hurry even if it is a bit darker than I wanted it to be.
Spring Wreath and Other Flowery Arrangements
We have a craft shop called Hobby Craft in the UK where you can buy a lot of different things for a large variety of crafts. Flower arranging is one of them and I was able to get some spring decorations and flowers for a sprig wreath I had planned to do last year but never got around to doing it. It is made up of daisies, colourful eggs and toadstools. It was very simple to make as all you need to do was thread the wire through holes in the wreath and twist it around to secure it. The eggs were glued on. It's now on the wall in the hallway. (Pic's a bit blurred - sometimes, they just come out like that, which is annoying.)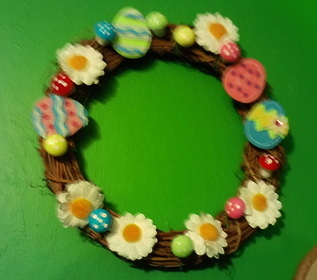 I sometimes collect mugs with animals and wildlife on them. I'm not into fancy china, but I still like things with critters on them. Sometimes they do get cracked or weakened in someway and can't really be used for their original purpose any more. When that happens, I try to find something else to do with them rather than throw them away - they are too nice to do that. I decided to put some fake flowers in them - this time the left over daisies from the wreath and some sunflowers, and heather. They brigthen the place up and my mugs won't get damaged any further with washing them if I put real cut flowers in them. I also got a spring nest to brighten the place up a bit!